Seventeen-year-old Sarita*says "Now I feel just as equal as a boy". 
Sarita's newfound pride comes from an autorickshaw which she learns driving from. Before her lessons, she wasn't as chirpy and driven. Belonging to the Devadasi community, she was very vulnerable and often in despair.
 "Driving the rickshaw has liberated me. It has given me hope", she says "If not for these lessons, I would have been in a desperate situation to make an income. I would have succumbed to exploitation."
Sarita's mother is a Devadasi woman who has had her share of trauma and abuse. Her meagre income is not sufficient to make ends meet with Sarita needing to contribute.
Our project Children GOOD (Getting Out of the Devadasi System) empowers children of Devadasis and Sarita is one among them. She was enrolled in a driving training course as the skill has a lot of demand in the vicinity.
"We live in a town which is near a UN Heritage Site. People from all over the world come to visit and there are no female drivers. This demand will make me a good income. I can also drive for my town people", she says.
Along with Sarita, 15 other girls from the Devadasi community are being trained in riding auto-rickshaws and driving cars.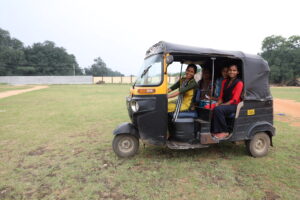 Sarita recalls, "The day I started attending the training, I knew nothing about auto-rickshaws. I was taught from scratch about the clutch, the gears, the break, how to start the vehicle, traffic signals and so much more." 
After successfully attending the training sessions, Sarita feels confident to ride her way each day towards financial independence.