People came running out of their houses, leaving behind the work they were engaged in, to watch what was going on in the streets of Bageppali.
Carrying 70×56 cm posters and shouting slogans, more than 850 school students rallied through the streets of the Bagepalli block of Karnataka to "Stop Child Marriages".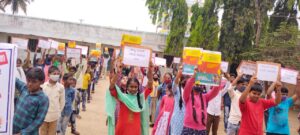 The issue of child marriages in Karnataka isn't a new one. Statistics show that the state of Karnataka accounts for 23% of India's child marriages. Our project IMAGE (Initiatives of Married Adolescent Girls Empowerment) works to stop child marriages while empowering the existing victims of child marriages in Karnataka. 
The IMAGE Team collaborated with the schools of Bagepalli to conduct rallies on 6th March to stop child marriages. The students who are well aware by now of the ill effects of child marriages were full of vigour to conduct these rallies. 
A bunch of 14-year-old girls shouted the slogan "No more child marriages, no more exploitation" which was repeated by the whole group twice. Then a bunch of boys shouted, "Education doesn't see gender, so why should we?" and the whole group called out in unison "Why should we? Why should we?"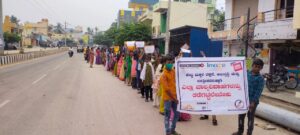 Clans of communities living on either side of the streets stood outside their doors intrigued by the roar of the rallies. Some of the men and women even shouted slogans along with the students displaying their support while the others passed smiles and clapped for these young change-makers of Bagepalli.
The students of Bagepalli left a mark on their parents, neighbours, relatives and everyone else who witnessed them. It was a good exercise to create awareness among the children as well as their guardians. There is much hope that these streets will think twice before engaging in any child marriages.
-Vaishnavi Gupta