"I was once a girl living within four walls, but now I am being recognized at state-level forums as a change agent," said Roopa*, after pausing for a moment to reflect on her life journey as a 19-year-old change agent.
Previously known as a child bride, she now holds the titles of a "Movement Leader," "Regional Leader" Change Agent," and is an inspiration to many girls who are the victims of child marriage. She is now a courageous and determined woman, but her journey had a humble beginning. 
How did she become a child bride?

Roopa's story began in a small village in the Chikkaballapura district of Karnataka where she was born to a construction worker father and a daily wager mother. Growing up, Roopa was a bright child and had big dreams, but her family's economic condition forced her to drop out of school in class 8th. At the tender age of 14, she was married off and became a mother of 2 at the age of 16. Sadly, child marriage was a common practice in her community, and Roopa became a victim of it due to poverty and cultural beliefs.
After marriage her life was confined within four walls around her two children and the never-ending household chores, pushing her further away from her dreams. She felt helpless living a life cooped up inside her house. She longed to lead a purposeful life and achieve her dreams, but her lack of access to education and empowerment made it difficult. She felt that her child marriage had robbed her of her youth and her aspirations. The fact that she had to give birth to her children at such a young age put her at risk of health complications. 
Unfortunately, Roopa's story is not unique in her community. Child marriage has been a long-standing tradition in many parts of India, particularly in rural areas where poverty and cultural beliefs often perpetuate this practice.
Roopa recalls, "I was in a helpless situation and not even aware of future problems after marriage."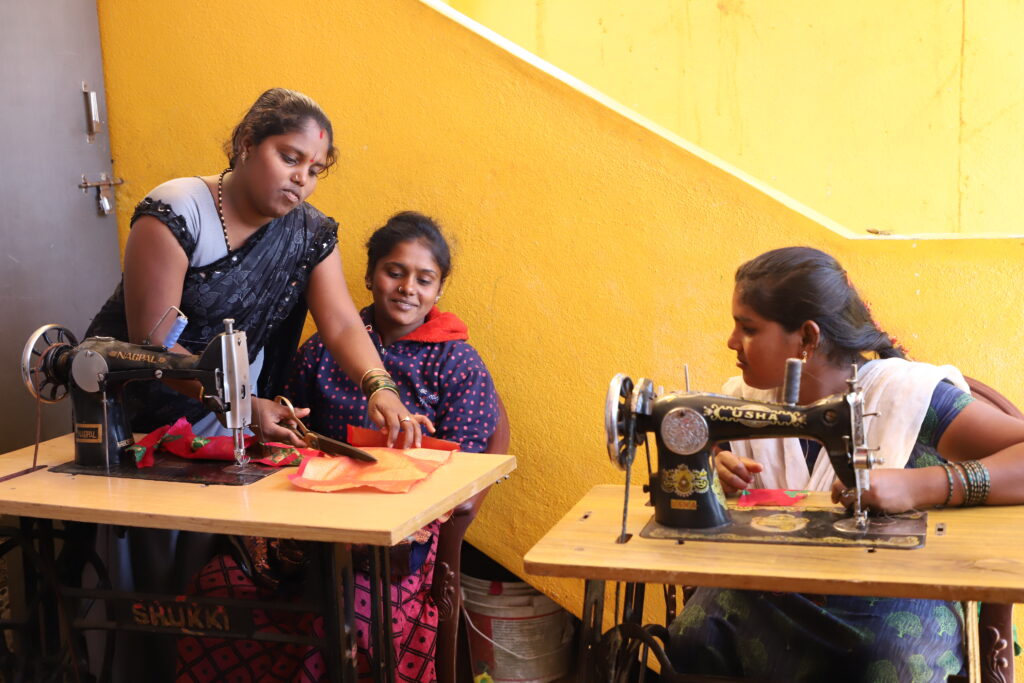 Project Image Initiative
Roopa's story took a turn when she was identified in 2018 by our IMAGE project that works to empower the victims of child marriage. After becoming part of the project, Roopa received training in tailoring to develop vocational skills and was educated about sexual and reproductive health and rights (SRHR), as well as gender-based violence (GBV). It took Roopa some time to come out of her shell but gradually she became an active member of IMAGE and showed up for all the training sessions. 
She participated in leadership training and capacity-building programmes from where she learnt about life skills such as advocacy, confidence, resilience, and communication. After seeing her confidence and enthusiasm to practice the learnt skills, leadership and her ability to effectively communicate, Roopa was chosen to be a movement leader as part of which she leads awareness programmes against child marriage, educating vulnerable children on child protection issues, reports mechanisms, and laws related to child marriage.
How a Child Bride conducted a Research on EMGs?
She was also chosen and trained to conduct research studies under IMAGE. She contributed to two studies: (1) determining the impact of COVID-19 on Early Married Girls (EMGs) in Karnataka, India, and (2) determining the health status of EMGs who became pregnant before the age of 18 in Karnataka. Both research studies assisted her in communicating with other EMGs who are all in need of moral support to stand on their own.
With initial support from the team, she organised meetings for other EMGs and at-risk girls to increase their understanding of child protection issues. As a movement leader, she now plans activities in her region and takes pride in making a positive impact on the lives of other early-married girls. Her mission is to prevent child marriages from occurring while also improving the lives of those affected by them.
Roopa has organized 4 meetings for the movement members and participated in more than 8 movement leaders' training sessions under the project. During these sessions, she delivered powerful and motivational speeches to encourage members to focus on their overall development. She frequently visits EMGs' homes to provide moral support and gather resources needed for their empowerment. She is also actively involved in conducting awareness sessions at schools and leads village and panchayat-level campaigns to raise awareness about child marriage and related issues.
Through her unwavering dedication, she managed to rally other EMGs who were previously unable to join due to familial constraints. With Roopa's assistance, 10 additional EMGs were identified and recruited to the movement during this quarter. Currently, the EMGs from her village participate in all project activities and engage in awareness programs. Roopa is also passing on her acquired vocational skills by teaching tailoring to 17 EMGs and vulnerable girls in her village in batches.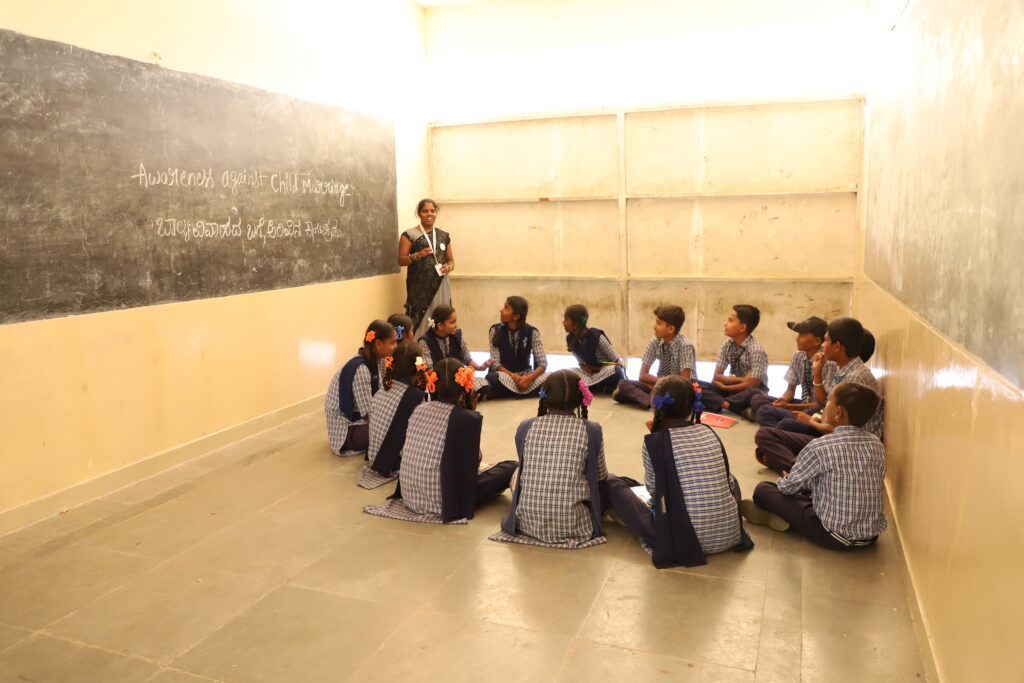 A Journey from a child bride to an Independent Women
Currently, Roopa is receiving more support from the team to enhance her leadership and communication abilities, as she actively leads community awareness sessions. She has graduated as a regional-level movement leader and serves as a representative of the regional team. Several additional leadership training sessions are planned to further refine her networking skills.
"The biggest change in my life is the self-confidence that I have gained now because of IMAGE. I got numerous opportunities to acquire new skills and speak at various public forums, leading to recognition from both my family and community. I am extremely delighted that I have become an influential figure in my village being a part of IMAGE", shares Roopa looking back on her journey. 
Roopa was once resigned to being a victim and confined to her home, but now she is spreading awareness about child marriage and empowering vulnerable children to create a society free from such practices. Her transformation has inspired other early married girls to take action and become leaders in their community. She now actively seeks out new opportunities to learn and grow, a stark contrast to her previous mindset.
Roopa's story serves as a reminder that change is possible, even in the face of adversity. Her journey is proof that with hard work, dedication, support and a willingness to fight for what is right, anyone can make a difference. 
*name changed to protect child's identity