Devadasi System: An Ancient Practice 
Children of Devadasi undergo discrimination, drop out of school early, face violence and abuse. Even the children who do not take the path of sex work still face society's stigma of being a 'prostitute's child' which holds them back from maximizing their potential. In many cases, it is this ostracizing that pushes girls back into the vicious cycle of sexual exploitation, and boys get into criminal activities. 
Our project Children GOOD (Getting Out of the Devadasi System) intervened in Saritha's life in 2019. The project focuses on empowering girl children of devadasis such that they are equipped to drive their development forward, taking themselves out of exploitation. Through this project Saritha was able to fight the stigma and emerge victorious when during the pandemic, she single handlely created jobs for 150 of her villagers.
Hailing from a Devadasi community, in a small village of Belgaum, Karnataka, 18-year-old Saritha (name changed) lived with her family. Saritha's grandmother has been a victim of the age-old Devadasi practice where girls and young women from lower caste communities are forced into prostitution. This institutional exploitative practice which gives a religious sanction to prostitution leaves behind many scars, especially on the children of the Devadasis. 
Children of Devadasi System in India
Girls like Saritha who come with the label of 'children of Devadasis' not only face discrimination in every sphere of life but are also vulnerable to being dedicated as Devadasis post-puberty to live a life where sex work becomes their role in society. 
Before the Covid-19 pandemic took the country by storm, Saritha's 45-year-old father Sadashiv worked as a daily wage porter in the village while her 38-year-old mother Sarojini was a homemaker as she suffered from poor kidney health. Saritha's grandmother was 65 years old. She also has two younger siblings Rohini and Akshay, who were studying in 9th and 10th standard respectively and attended the only high school in the village. Being the eldest sibling, Saritha sometimes missed school to accompany her father in the daily wage work for extra income. 
The main occupation of the villagers is agriculture, the main crops being sugar cane, jowar, corn and tobacco. A lot of the villagers also work as daily wage laborers in the nearby towns. As per the constitution ofIndia and the Panchayati Raj Act, the village is administrated by a Sarpanch (Head of Village) who is elected representative of the village panchayat (grassroots level government). 
Covid 19 Lockdown in India
On the evening of 24 March 2020, Saritha and her family were enjoying a bowl of hot dal and cooked rice for dinner when their neighbor knocked at their door and shared the news of the nationwide lockdown announced by the Government of India as a preventive measure against the COVID-19 pandemic that was infecting multitudes of people rapidly.
When 66% of the rural population of Karnataka lost their jobs due to the Covid-19 lockdown in March 2020 (according to a survey1 by Azim Premji University), 18-year-old Saritha did not expect her father would be losing the family's only income source- his daily wage work too. 
Saritha and her family cut down on their food consumption to sustain the existing supplies for a long time knowing very well that without any money, they wouldn't be able to get any more rations. Borrowing from the neighbors was a clear no too as they were sailing the same boat as Saritha and her family. 
One week after the lockdown, the meager food supplies also ran out leaving Saritha and her family of 6 in turmoil. As if this alone wasn't a big enough issue, many relatives came knocking at her door asking Saritha's dad to return the money he had borrowed before covid, some villagers even threatened to file a complaint against him. 
Due to the schools being shut down and the lack of getting access to online classes, gloom took over Saritha and her siblings as they felt fearful of the future. "Would we have to go and work to meet the daily needs, would I be dedicated as a Devadasi?" were some of the questions Saritha's mind kept hovering over to. 
Sarita noticed this was the case with almost every household in her village's cluster. Due to schools being shut down, Sarita would speak to her friends from the neighborhood every evening through the house windows through which she got to know that many of her friends were sailing the same boat as her as their parents also lost their daily wage work. This also placed Sarita and the other girls from her community at risk of prostitution & being dedicated as Devadasi. 
"The pandemic affected not only my family but also other community members. We were in a very poor economic state and we barely had an income. We were struggling", shares Saritha. 
One night Saritha was trying to sleep but all she could do was toss, staring once at the cemented wall and then turning to see her siblings sleeping next to her, Saritha's inner voice reminded her of something. Something which could understand her and help her. She instantly thought this was a good idea- to share it with Project GOOD staff Ms Ashwini.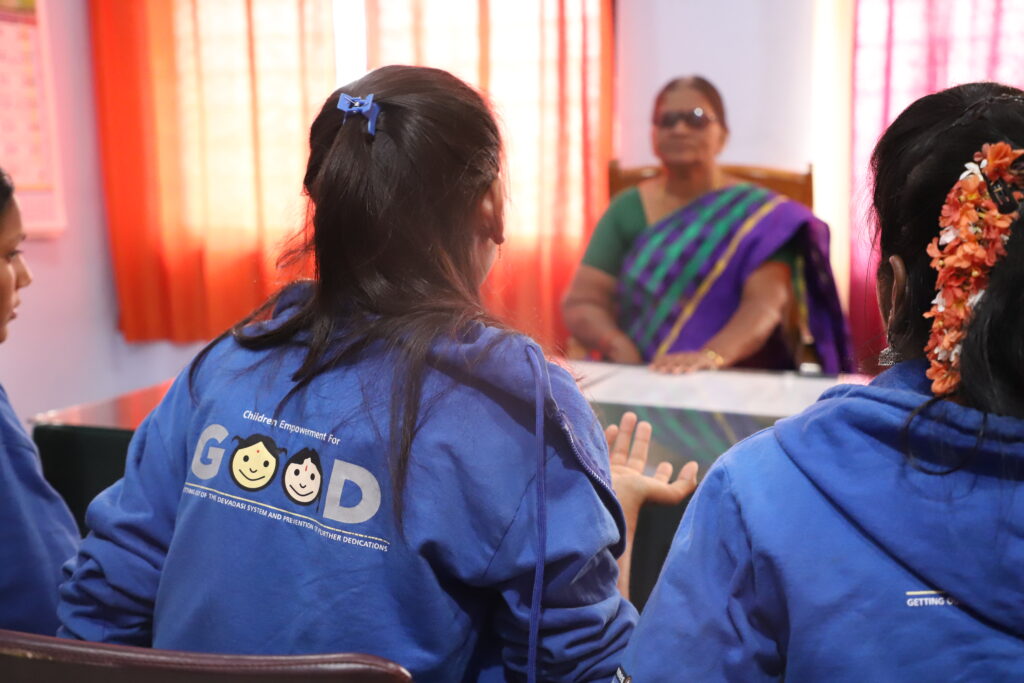 GOOD: Children of India Foundation's Project
To protect and empower children like Saritha who come with the baggage of the Devadasi system, the Children of India Foundation's project- Children GOOD (Getting Out of The Devadasi System) works in 5 districts of North Karnataka to empower these children who are vulnerable to different forms of violence and exploitation. The project aims to protect and empower children of Devadasis through education, life skills training, vocational training, child participation and community sensitisation. 
Saritha was recognised as a child vulnerable to the devadasi system by Project GOOD in October 2019 through a baseline survey and was registered under the project. She was also made to be part of her village's Kishori Club, a children's club by Project GOOD for girls vulnerable to exploitation under 18 years of age. The Kishori group in her village is called the Mother Teresa Kishori Group which comprises 35 Kishoris (girls below 18) including Saritha. Through this, Saritha has learnt a lot about child rights, the importance of education and using one's voice to bring the desired change in society.

Being active members of the Project GOOD Kishori Club activities and sessions, Saritha and other Kishoris were trained in life skills, advocacy tools, and research tools, all intending to empower them through participation in their development. The Theory of Change in the case of Saritha is bringing about change through children as change makers. Here the ToC focuses on empowering children and instilling the confidence in them to bring about change, along with ensuring they engage with multi stakeholders in their environment to initiate that change into action. The multi stakeholders in this context include families, law enforcement agencies, the government and civil society organizations.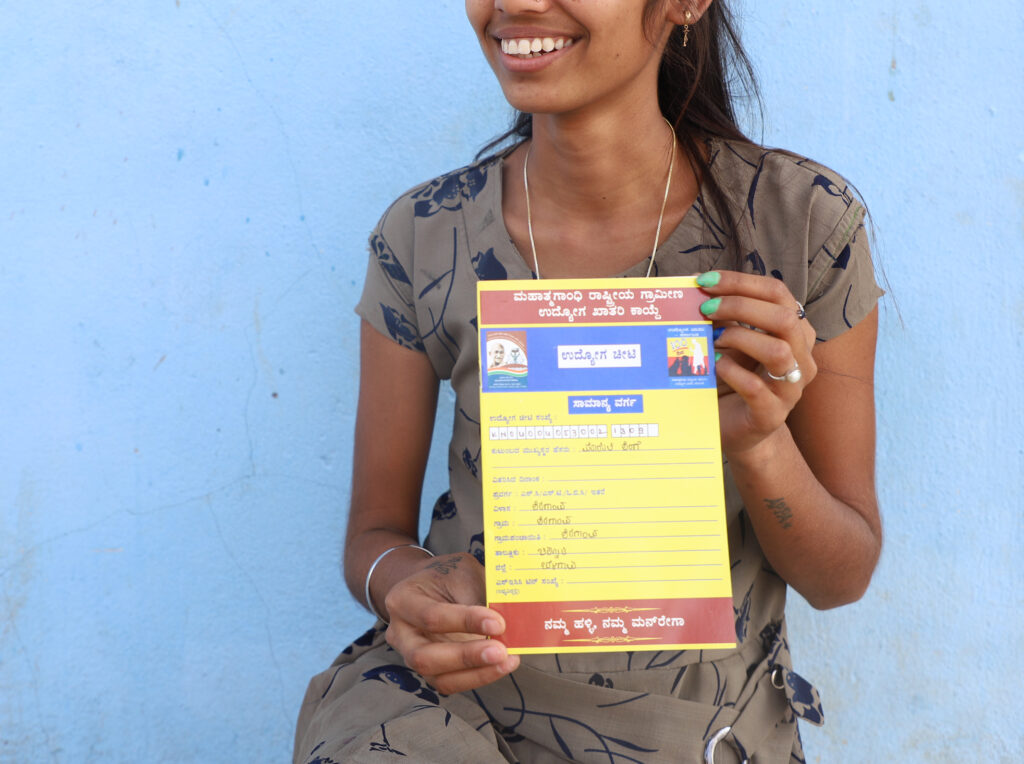 How the Children's Devadasi System in India led to a revolutionary change?

In the past, Mother Teresa Kishori Group girls have played an important role in expressing various problems related to children's education and have demanded solutions from the Gram Panchayat and community leaders. In December 2019, when Saritha got to know about a child marriage taking place in her community, she immediately put her training in child rights to use and informed Childline 1098 and Project GOOD staff members. Along with other Kishoris, she once played a major role in stopping a devadasi dedication from taking place. Because of this determination and vigor that she carries, she was elected the Kishori leader of the Mother Teresa Kishori Club. 
In the 81 villages of Ballari, Koppala, Bagalkot, Vijayapura and Belagavi districts of North Karnataka, Children of India's Project GOOD works to empower over 2600 girls from the Devadasi communities to make them the change agents who stand up for their rights before duty bearers and caregivers. The project organizes girls into Kishori Clubs where they are trained on life skills, advocacy tools, and research tools, all to empower them through participation in their development. The Kishoris are trained in communicating their problems and concerns with Government officials and Law Enforcement Authorities.
Determined to not give in to her circumstances, Saritha shared about her family struggle with Ms Saritha during the online Kishori meetings which she was able to attend through the E-Tabs distributed during lockdown by Project GOOD. Seeing her courage, the other Kishoris also felt motivated to share the similar problems they were facing due to no family income. After understanding the situation Project GOOD provided Saritha and other Kishoris with psychosocial kits, dry ration kits and schooling materials along with individual and family counseling sessions to help them not give up during the tough times. 
The psychosocial kits included art supplies intended to engage the children in creating art which would help them manage stress better while the ration kits included pulses, rice, cooking oil, vegetables and spices. The children in each Kishori's family were given study kits which included books, notebooks and stationery materials to help them not get distracted during lockdown times. 
"I remember Ashwini madam telling us tough situations dont last but tough people do", shares Saritha recalling the Kishori meeting conversations during the lockdown. 
A week after getting access to ration kits, Saritha was visiting her relative in a nearby village when a display board outside a street caught her eye. The board read in big Kannada letters- 'Employment Opportunities by the Government of India'. It mentioned a government scheme called Mahatma Gandi National Rural Employment Guarantee Act (MGNREGA). MGNREGA is the Centre's work guarantee scheme for rural people with a predetermined minimum wage. It was launched by the Congress-led United Progressive Alliance (UPA) government in 2006.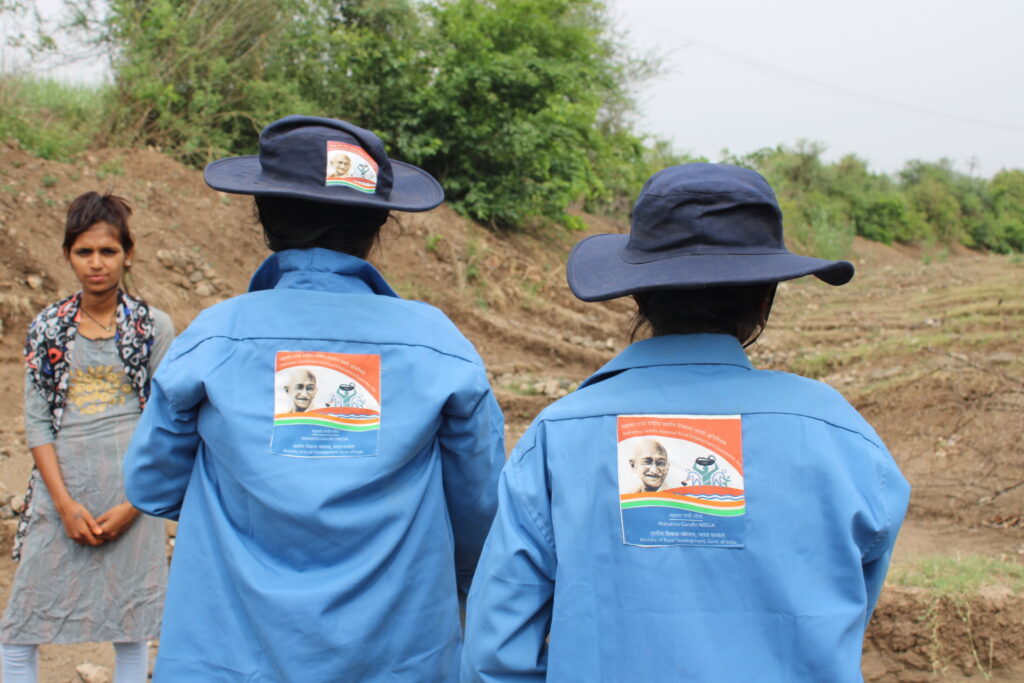 MGNREGA : A Ray of Hope
Saritha was curious to know what this scheme meant and she asked her relatives about the same. After understanding it and returning to her village, she shared about the MGNREGA
scheme with the Kishori group members and Ms Ashwini, who encouraged her to take this up to the Panchayat Development Officer. 
Saritha took this as her life mission. On 10th June 2021, she went to the Panchayat Development Officer (PDO) and shared the struggles her family and other community members were going through due to the unavailability of jobs during the lockdown. She expressed to the PDO, "As a family of six, we are struggling to meet the daily needs and live in constant worry about the future." Pointing towards the 15 Kishoris who accompanied her, Saritha said, "It is the same with all their families." 
The PDO first dismissed her by saying that her village is not being covered in the MGNREGA scheme and therefore he can't do anything about it. Saritha wasn't ready to accept hopelessness as the answer, she and the Kishoris emphasized how their families were struggling to meet the basic needs of nutrition and education. Seeing her determination toward the upliftment of her community members, the PDO asked Saritha to prepare a list with the names of all the breadwinners of the families who lost their income due to lockdown along with a request letter mentioning the urgency of the MGNREGA scheme to be implemented in the respective village. 
Working day and night, Saritha led the 15 Kishoris and made a strategy to get the community members' names. With a sanitiser in one hand and notepad in the other, mouths covered with masks, Saritha and the Kishoris went door to door in her village noting down the details of all those who lost their jobs. /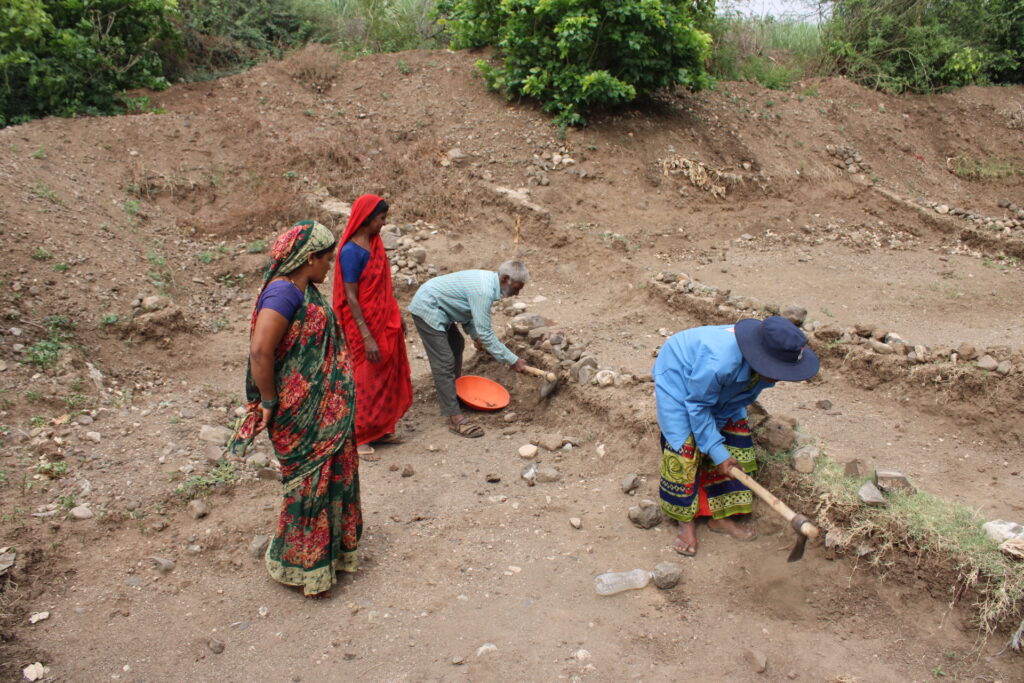 How Children of Devadasi System helps 150 people to get jobs?
Two days later, Saritha went to the PDO with a list of 150 people who desperately needed access to the MGNREGA job cards to sustain their families. She also wrote a request letter addressed to the PDO mentioning the problem and the urgency of the situation.
The very next day after submitting all the documents the 150 unemployed villagers named on the list were given the MGNREGA job cards. From that day onwards, they started working on the construction site of a local canal and received Rs. 283/- per day for 100 days. 
Some villagers who previously doubted Saritha and the Kishori's Capability to get them access to the MGNREGA scheme came to them and applauded them for their efforts and strong will. 
Saritha's mother and grandmother also became part of this work as it was a part-time hassle where they could return home by 2 pm after finishing the chores assigned for the day while Saritha's father resumed his daily wage contractual work. 
Saritha displayed immense courage, kindness and dedication to taking up the issue of unemployment. She fought for the community people and got appreciated by the villagers, community leaders, Panchayat Development Officer and others. 
Saritha hasn't always been this confident as she recalls and shares that through the life skills training by the GOOD project where she learnt decision making, public speaking and the power of confidence, she was able to stand for what is right and be the change agent just as she is taught to be. 
Conclusion:
"As the GOOD project staff has taught me, I want to continue my education, learn more and help the community. I would like to teach and support the community in getting what is rightfully theirs from the government", Sarita ended.
Though Saritha was determined to bring a change in her community, it wasn't a cakewalk. Many of the people who she was standing up for questioned her suggesting that the Project GOOD interventions were biased and favoured only a few- the ones who got ration kits during the lockdown. But Saritha remembered the life skills of confidence and public speaking she learnt being part of Kishori groups and used this situation to put the training to practice. 
When Saritha and the other Kishoris went door to door collecting information about the unemployed, some families were hesitant to share their personal information 
Saritha's family hesitated at first when Saritha shared her plan of talking to the PDO along with Kishoris as they thought she would get into trouble for raising her voice against the system. However, they later appreciated Saritha for going against the odds to stand for her community.