15-year-old Nandini would stand at the bus stop in her blue checkered tunic and red tie eagerly waiting to hop on the bus, see her friends and recite poems with them on the way. Every day she looked forward to sitting at the window seat on the bus from where she would see the birds- pigeons, eagles, crows, and sparrows flying swiftly with the moving speed of the bus. 
Nandini's parents worked as daily wage labourers in the nearby construction sites of their village in North Karnataka and were always determined to give Nandini and her three younger sisters access to education.
In 2017, her parents decided to shift to South Karnataka in search of better employment opportunities. To not let the children's studies be affected, they left the children with Nandini's aunt, a former Devadasi, who assured them of taking care of their children. Till 2020 Nandini and her siblings were attending school which granted free education till class 8. In 2021, Nandini's parents somehow managed to send money for Nandini's studies from the meager income they earned.
However, as Nandini was promoted to grade 10 in 2022 after the results, things became even more difficult as her parents didn't have enough money to pay the school fees or buy her the school books and other stationery.  
Living with her aunt, who was a former Devadasi, also made Nandini vulnerable to sexual exploitation as people started talking about her being dedicated as a Devadasi "just like her aunt". 
"I felt alone after dropping out of school. I was afraid to go out and work", shares Nandini.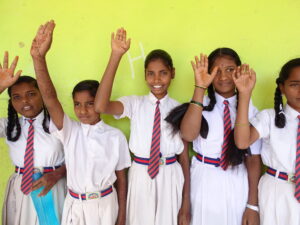 In July 2022, Nandini was enrolled in our project Children GOOD as part of which she joined a Kishori club (children's club for girls below 18 who are vulnerable to exploitation in the Devadasi system) where she learnt life skills along with her peers. She actively participated in these Kishori meetings regularly and was always curious to learn. 
Soon, the Kishori club girls noticed Nandini's absence from all the meetings and the life skills training, they knew something was wrong. They informed the Children GOOD facilitator and decided to visit Nandini's aunt's place where Nandini lived with her siblings. Nandini shared with the Kishori girls about her dropping out of school due to the lack of resources and looking for daily wage work. 
Children GOOD decided to help Nandini come out of this tough situation. In November 2022, she was supported with the school fee amount for the academic year and was re-enrolled in class 10. Children GOOD also provided her with a school bag, textbooks, notebooks and stationary. 
Nandini's aunt was also given awareness of the importance of continuing Nandini's education. To ensure that Nandini is not at any further risk of sexual exploitation, the Children GOOD team shared with her the contact information of officials working in the Child Protection Systems, namely Childline-1098, the District Child Protection Unit and the Child Welfare Committee. 
Now Nandini has rejoined school  She is happy to study again and dreams of becoming a Taluk Officer of her block so she can ensure hassle-free education for all girls from the Devadasi community. 
"My future would have been ruined if I was not a member of the Kishori Group and if there was no support from the GOOD Project. My heartfelt thanks to GOOD Project for the timely support"