IEC MATERIAL WITH PROSPERFIT
Due to the ongoing COVID pandemic, with an attempt to educate and create awareness amongst people, especially young children, Children of India Foundation teamed up with Prosperfit to create educational videos. Prosperfit is India's leading visual, video, and voice content provider in more than 90 languages & dialects. Their work powers diverse social-impact initiatives of their partners, ultimately helping the people of India to be healthier, happier, and financially more secure.
We aimed to spread the importance of COVID prevention through different ways, by promoting the use of masks, sanitizers, and social distancing. To reach a higher range of audiences, covering a huge widespread, we made videos in 5 different languages. They are Hindi,  Kannada, Telugu, Tamil, and Oriya. With the usage of local languages, we were successful in making these videos reach rural populations too. 
In total, there were 4 animation videos made in each language, based on different awareness topics. They are:
How to beat CoronaVirus?

Social Distance is Important.

Frequent washing of hands can keep us away from COVID

Importance of COVID Vaccination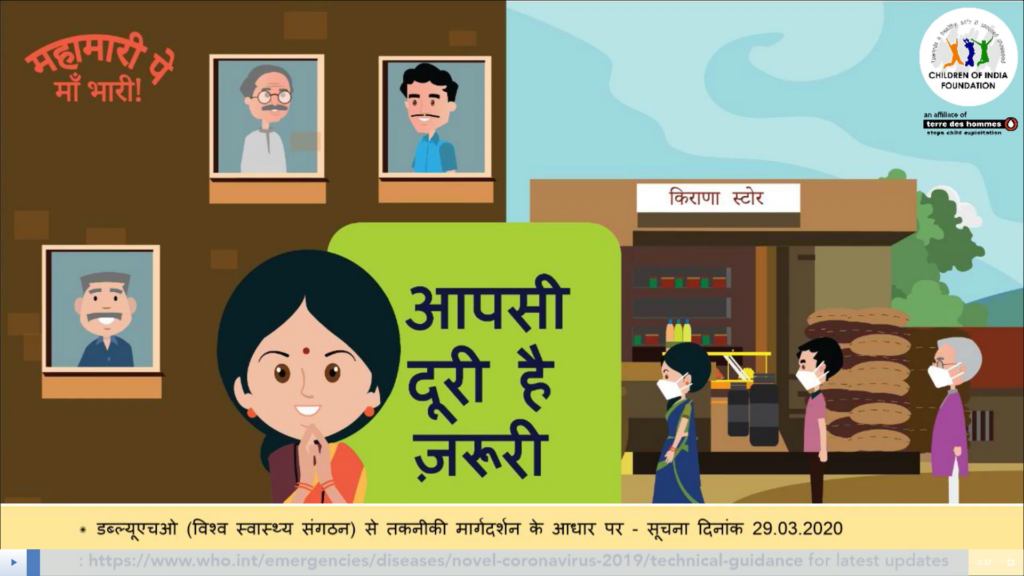 The videos depict how the disease spreads through droplets from one person to another and what could happen to a person. It also throws knowledge on how the disease could be best avoided by staying at home, not going out unnecessarily, using masks & sanitizers, and regularly washing hands. An equal amount of importance has been given to social distancing as it takes up to 14 days for a person to show COVID symptoms, it is even difficult to stop the spread of the disease. Therefore, the only best way to stop this is by maintaining a good distance from people when we go out in public. Since COVID could be asymptomatic too, there is no way we could know if the person is infected or not, and the disease could be easily spread through cough, sneeze, or even talking at a very close distance with the infected person.
Few of the important questions were answered in the video as to how effective the vaccines are, if there are any major side effects, or if there are long-term implications due to the vaccine. All the points were addressed in the videos with the hope of an increased vaccination rate amongst the rural population. These educational videos are not only made creatively and interestingly to attract people from all age groups but are also extremely easy to understand. 
These pamphlets or materials have been rolled out in close to 400 villages, which would be then reaching around 10 lakh people. Parents and other older women are finding the videos to be very informative, whereas, children, are finding the videos to be entertaining and eye-catching. "We always thought taking vaccines would have long-term side effects. Only after watching the video, we realized that vaccines are the best and the safest way to prevent ourselves from COVID", says an adolescent girl from Karnataka.