During the last few months, the state of Karnataka has been enforcing curfews and lockdowns due to the surge of COVID cases in the country. Schools and colleges have been shut down, the unemployment rate has increased, and the number of COVID cases has been rapidly rising. People are experiencing isolation, loneliness and frustration created by the COVID restrictions. Especially children belonging to the rural regions of Karnataka. They are exposed to domestic violence, child marriages, and increased devadasi dedications. Not to forget, the fear of not being able to continue their education. 
The Devadasi system, a practice that was pious and a form of worship through performing art, has today been reduced to women being used for sex in lower caste sections of society. After puberty, girls are dedicated as Devadasis in a ceremony where they become sexual partners of men. They face severe social and sexual exploitation from a young age. A survey conducted by the Karnataka State Women's University in 2018 revealed that there are 80,000 Devadasis in the state. The children of Devadasis are also vulnerable to physical, sexual, and emotional abuse.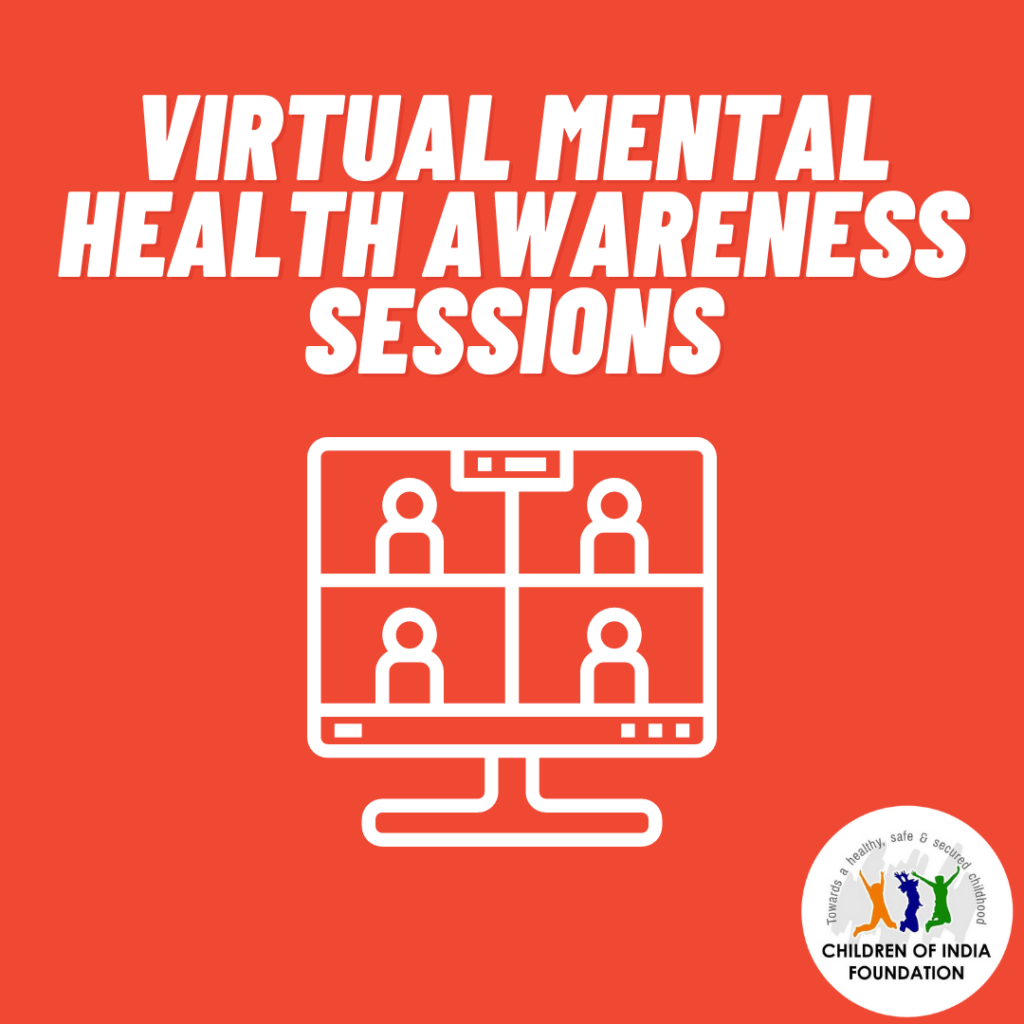 To help these children battle their fears and thoughts, the Children of India's GOOD team brought over an expert therapist, Meena. K. Jain to provide mental health awareness sessions. She is a specialised trainer, therapist, and interventionist with three decades of experience in her field. She also excels in psychology, psychotherapy, sociology, and rehabilitation. She strives towards women empowerment & safety, child safety & protection, and anti-human trafficking.
Different sessions were held with children belonging to different project regions of the GOOD project. Children participated in activities such as storytelling, pictorial representation, and singing, to plant a positive mindset within them. During the process, the children were allowed to open up and talk about their fears, a few of which were:
If schools/colleges would open up

Whether they would be allowed to study further

Fear of increase in child labor

Fear of increase in the number of devadasi dedications

Fear of parents losing their jobs
The counselor suggested the children talk to their parents regarding their fears and their teachers regarding any issues related to the re-opening of schools. She also motivated them to ask for a home-schooling option at least as long as the covid situation prevails. She guided them on not to pent up their feelings and emotions, but instead, asked them to share them with somebody close to them, as it might lead to anger and frustration.
During these tough times, it is extremely important to be there for each other and to maintain one's mental sanity. Children were able to learn a few techniques to control their negative thoughts, fear, and anger. A few of these techniques are breathing exercises and mental exercises for mental calmness. The participants were asked to meditate, imagine and recreate circumstances within their mind, where they assumed themselves to be stronger than everyone, and everything else and destroyed all the issues around them. They were also asked to maintain patience and be helpful to their fellow group members.
The GOOD staff too were given guidance on how to listen out to the children, and be there for them. Overall, the sessions proved to be very helpful for the children. One of the participants said, "I feel very relaxed and felt the anger and frustration exit out of my system". They seemed more relaxing and calm at the end of the sessions and were able to take control of their mental health. They are also now aware of how to maintain their anger and face their fears. 
By Keerthana Vijay , Communications Associate